When it comes to dental health, it's not just about brushing and flossing – it's about making sure you and your family have access to the best possible care. At Smiles for Life Family Dentistry in Las Vegas, we provide quality dental providers who can take care of all your family's dental needs with family dentistry. We are here to help.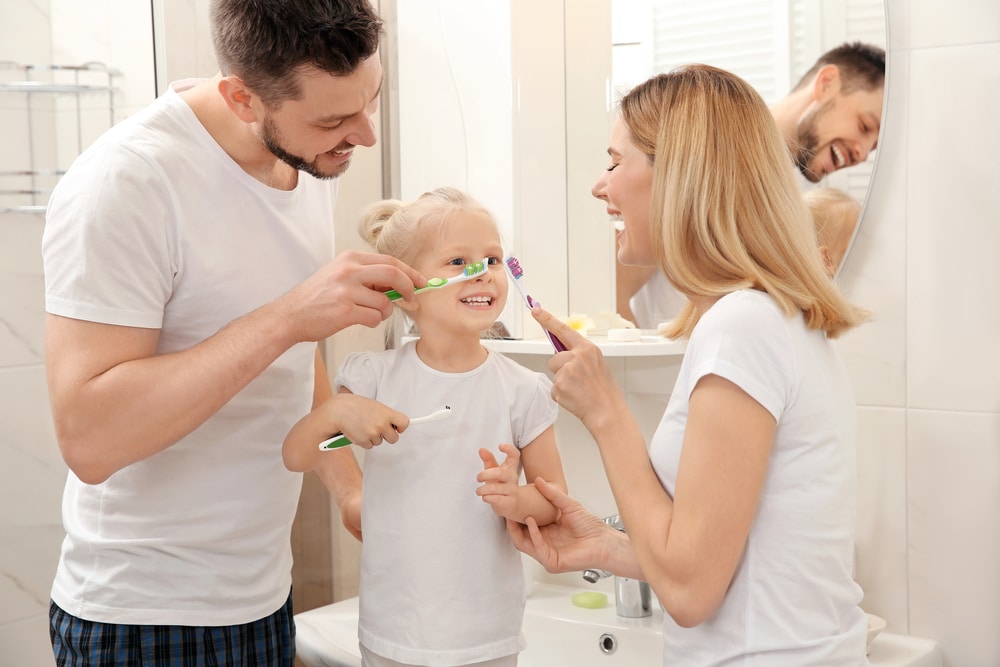 What Is Family Dentistry?
Family dentistry provides dental care to patients of all ages, from infants to older adults. Our Spring Valley family dentistry includes periodontal treatment, dental implants, cosmetic dentistry, and more. Our team helps patients enjoy oral health by maintaining healthy teeth and gums. 
Family dentists Dr. John M. Quinn, Dr. Joseph Wills, and Dr. Paul Leatham are highly trained professionals who specialize in dealing with the unique dental needs of patients of all ages. By offering a range of services that cater to the entire family, we provide a convenient, one-stop solution that saves time and money in the long run. 
Child-Friendly Environment:

Visiting the dentist can be a scary experience for children. That's why we strive to make our office a welcoming environment for kids of all ages. Our gentle approach and child-friendly amenities help children feel at ease and even excited to visit the dentist.

Dental Education and Prevention:

Education and prevention are key to maintaining good dental health. That's why we take the time to educate our patients on proper brushing and flossing techniques, as well as other best practices for maintaining healthy teeth and gums. We also offer preventive services like dental sealants and fluoride treatments to help protect your teeth against decay.

Convenient and Affordable –

We strive to make our services affordable. We accept various payment options to make it easy for you to get the care you need. We also offer convenient scheduling options, including extended weekday hours, to accommodate your busy lifestyle.

Comprehensive Dental Services:

We offer a wide range of services to meet the needs of every patient. From preventive care to restorative dentistry, we can help you achieve and maintain optimal dental health. Our services include the following and more. 
-Root Canal Treatment
This procedure can be a powerful tool in restoring your dental health. By removing infected or damaged tissue from the root of your tooth, a root canal treatment can help alleviate pain, prevent further damage, and ensure that your smile is healthy for years to come. We take a gentle, patient-centered approach to every root canal treatment, ensuring you feel comfortable and informed throughout the process.
-Dental Crowns
A dental crown can help restore a damaged, cracked, or unsightly tooth, allowing you to smile confidently once again. Our experienced team of dental professionals will walk you through every step of the process, ensuring you receive the highest quality care and attention. With Smiles for Life Family Dentistry in Southwest Las Vegas, you can trust that your smile is in good hands.
-Dental Veneers
Dental veneers are a cosmetic dentistry option that can transform the appearance of teeth. We offer this procedure to patients who desire a brighter, more uniform smile. Veneers are thin porcelain shells bonded to the front of teeth. They can cover stains, chips, gaps, and unevenness. Veneers are custom-made to match the size, shape, and color of your natural teeth. Getting veneers involves a consultation, dental impressions, and a few appointments for placement. With proper care, veneers can last for many years and give patients newfound confidence in their smiles.
We are committed to providing you and your family with the highest quality of dental care. From preventive services to restorative treatments, we have everything you need to keep your smile healthy and bright for life. So why wait? Schedule your appointment today and experience the difference that family dentistry in Southwest Las Vegas can make!